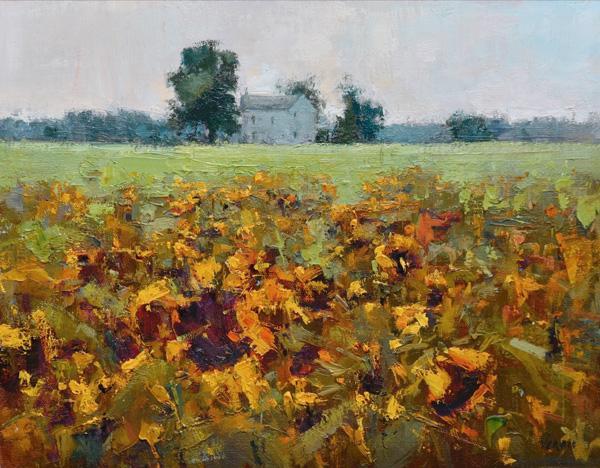 Facing East by Valerie CraigThe goal of the Visual Arts Ministry of Bryn Mawr Presbyterian Church is to remind the observer of our Creator's boundless gifts and His immeasurable grace. We accomplish this through exhibitions, education programs, and opportunities for the congregation and community to participate in multimedia events. Exhibits are mounted regularly in the Ministries Center.
2018-2019 Exhibit Highlights
Supposed Realities: Solo Show of Richard J. Watson. Opens Sunday, December 2. Richard Watson of Bryn Mawr was born and raised in North Carolina where he developed his artistic abilities before training at the Pennsylvania Academy of Fine Arts. He describes his creativity as "supported by memories of the past and suggested realities." His life as an artist, teacher, musician, and political activist for social justice influences his art. Some works are traditional but others transcend into collage, found objects, and diverse media that mix reality with dreams. Watson's art graces public and private collections, churches, and special collections of African American Art in the U.S. Reception to follow the Christmas concert on Sunday, December 16 at 4:00 p.m.
Women's Craft Art: Quilts, Weaving, Knitting, Samplers & More. Opens Sunday, March 17. In celebration of Women's History Month woman artists and crafters from the region and BMPC will exhibit their artistic craft accomplishments. In colonial times girls grew up learning needlework and weaving to create samplers, cloth, quilts, knitwear, hooked rugs and the like. Women's artistry also evolved with pen and ink, the brush, glass, pottery and other media. Samples of women's craft art through history, from near and far, and from the primitive to the exquisite will be on display. A reception will immediately follow the Bonhoeffer concert on Sunday, March 17 at 4:00 p.m. A program on "Song Quilts," the textile traditions of the Russian Arctic by Eliza Hardy Jones, a musician and quilter, will be held on Wednesday, April 24 at 7:30 p.m.
Artists' Gathering
Thursdays, 10:00 a.m.-5:00 p.m., Gloucester Room. Artists of any medium are invited to attend with their materials to create, share, and develop their talents in a community of fellow artists.
Interested artists and volunteers should contact This email address is being protected from spambots. You need JavaScript enabled to view it. to become a part of this ministry.