Baptism
For more information on baptisms, visit our Sunday Schedule page or contact This email address is being protected from spambots. You need JavaScript enabled to view it..
Weddings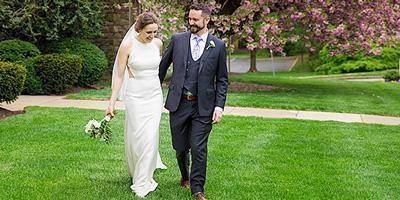 Bryn Mawr Presbyterian Church is committed to the belief that marriage is a sacred blessing from God, which begins with the wedding. We would be honored to walk with you through your decision to marry and to help make your wedding a rich and meaningful event. We request your careful attention to the following guidelines as we seek to facilitate worshipful weddings with clarity for both the church and the couple.
We conduct weddings according to the guidelines of the Presbyterian Church (USA).The Constitution of the PC (USA) says this about marriage and weddings:
Marriage is a gift God has given to all humankind for the wellbeing of the entire human family. Marriage involves a unique commitment between two people, traditionally a man and a woman, to love and support each other for the rest of their lives. The sacrificial love that unites the couple sustains them as faithful and responsible members of the church and the wider community.
In civil law, marriage is a contract that recognizes the rights and obligations of the married couple in society. In the Reformed tradition, marriage is also a covenant in which God has an active part, and which the community of faith publicly witnesses and acknowledges.
For more information, contact BMPC's Wedding Coordinator, This email address is being protected from spambots. You need JavaScript enabled to view it..
Funerals
To request/schedule a funeral or memorial service, or for info about our Chapel Garden, contact This email address is being protected from spambots. You need JavaScript enabled to view it.. To view an alphabetical listing of all those interred in BMPC's Chapel Garden, click here. To view our plot locations, click here.
Upcoming memorial services will be posted here with the permission of the family.
Virtual Memorial Service for Bill Hanna
Saturday May 30, 11:00 a.m. Click here to follow along with the bulletin.


Please click the link below to join the webinar:

Or Join via Telephone by calling this phone number: +1 646 558 8656

Webinar ID: 884 8063 2464

No registration is required.
Planning and resource booklets:
"Are Your Affairs In Order - Planning Guide" (Fillable version)
"Are Your Affairs In Order - Resource Book"(Fillable version)
"When the Time Comes"(Fillable version)
Blessed are those who die in the Lord, for they will see God.
Blessed are those who mourn, for they will be comforted.