BMPC CELEBRATES 150TH ANNIVERSARY
On January 13, 1873, the Bryn Mawr Presbyterian Church was founded. Three men and 13 women gathered together in Temperance Hall on Lancaster Pike for the purpose of founding a Reformed congregation in the quickly-growing borough. We soon purchased property from the Pennsylvania Railroad and built a small greenstone Chapel the following year, near the site of our current Sanctuary.
View BMPC's 150th Anniversary Video:

We hope you enjoyed celebrating BMPC's 150th Anniversary!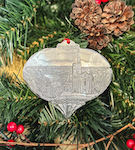 150th Christmas Ornament. Join in celebrating BMPC's 150th Anniversary by purchasing this newly-created Christmas ornament featuring our renovated church property. Designed and crafted by Wendell August Forge, this ornament is a beautiful way to celebrate the past and the future of our congregation. Ornaments may be purchased for $20.