While the newly-approved vaccines are a light at the end of this coronavirus tunnel, we are still in a strange time where social distancing and mask-wearing remain necessary for public safety. And, on top of that, it's the holiday season. We're a week out from Christmas. Families are still navigating complex health issues, the difficulties of social distancing and distance learning, decisions about travel safety, and family expectations. It has been a truly challenging year for all of us, including our youth.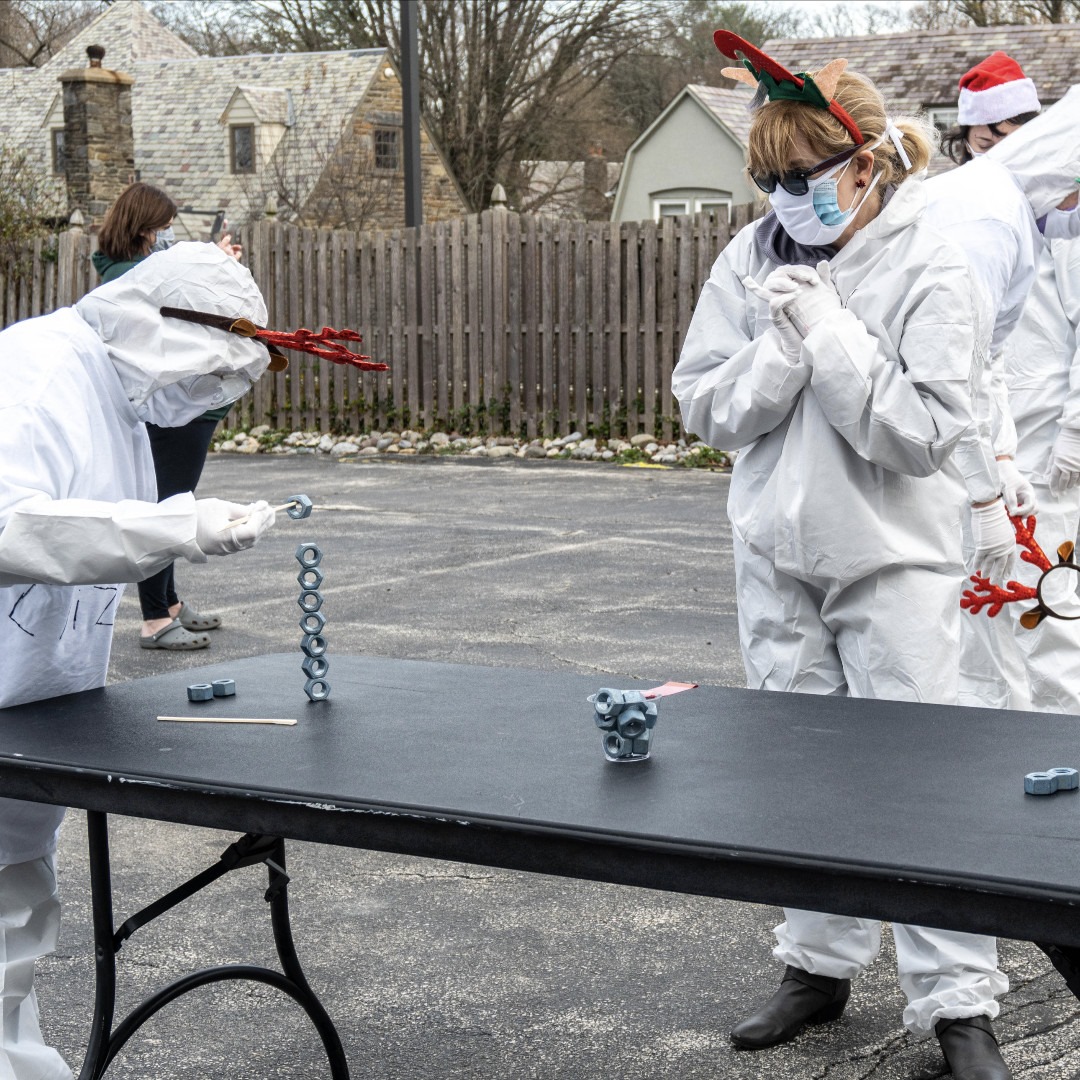 Current seniors' hopes and dreams for their last year of high school were interrupted by this pandemic. Teenagers had to figure out how to learn in new ways, connect with peers from afar, and work out their identities in a time when so many of their usual avenues of self-expression are no longer available to them. It's been a nightmare for our extroverts, who are struggling with loneliness, and anxiety-producing for our introverts, who now have to talk loud enough to be heard through a mask.
Our teenagers' shared experience of difficulty prompted the Youth Ministry Council to think creatively about providing a space where youth could experience a few hours of joy together. And so, this past Sunday, every youth was invited to take part in our Rainbow Reindeer Games.
Thirty-eight youth and 25 volunteers (separated into two time slots, to adhere to Pennsylvania's gathering requirements) participated in this first-time-ever event of fun, games, and social distancing. When each youth arrived, they went straight to a circle of socially-distant chairs. Each chair had a bag with a name on it. Each bag had a painter's suit, a cloth mask, cloth gloves, goggles, a plastic hair covering, and a hat with either reindeer antlers or a Christmas elf hat. Youth suited up, divided into teams, and partook in a minute-to-win-it gauntlet, a relay involving potato sacks and pool noodles, and color powder dodgeball. It was the first time in more than nine months our youth could be together with no other agenda than fun.
And while Rainbow Reindeer Games by no means solved the profound hardships of this season, it was incredible to see and hear our youth having fun with one another. I am so thankful for the adults who volunteered, the maintenance guys who helped with the setup, and our mail deliverers who brought us all the items to make this event possible.
Most of all, I am profoundly grateful for a church family that encourages innovation and play and that is committed to loving and supporting our wonderful youth.