All the families of the earth shall be blessed…
During this summer, our extended family celebrated the birth of my three great-nephews. Adding up to 12 little cousins in that generation, our son James quipped, "The Norfleet clan is growing exponentially!" What brings me great joy is this new generation also adds beautiful diversity to the Norfleet family tree.
I sometimes introduce myself to new church communities as a prenatal Presbyterian. Part of what that means is that my ordained minister and seminary administrator father and my Christian educator mother raised their children in the church. As I continue to engage in study and essential conversations about the insidious realities of racism and nationalism, I also realize that our family's church heritage, which goes back to our English, Scots-Irish, French Huguenot forebears who settled in America hundreds of years ago, also shares a measure of complicity in evils created and festered by Euro-American white privilege.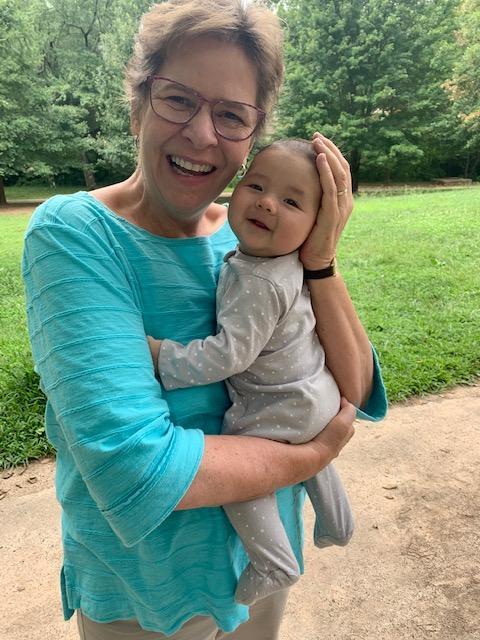 My new little great-nephew laughing in my arms this summer is of a family tree that shares my Euro-American heritage with his maternal family who are fully Chinese, and these great-nieces are a beautiful blend of Mexican, Chinese and European descent.
I hope and believe that my family's growing diversity is indicative of an ancient promise made to the first family of faith near the beginning of Genesis. The culminating promise made to Abraham and Sarah was that, through them, all the families of the earth shall be blessed. From the very beginning God placed a call upon one human family with the intention that their covenant relationship would become a blessing for the whole world.
Amid current realities of trauma and strife, much of it born of human diversity, during the coming weeks in worship we will listen to the ancient, formative stories about God and the family of Abraham and Sarah, Hagar, Ishmael and Isaac, and consider how the promises made to them lead us as a church to be a blessing for all the families of the earth.
I look forward to seeing you on Sunday!