Twenty-one years ago, I joined Singing City Choir, first as associate conductor and one year later, as Music and Artistic Director. From the very beginning of my tenure with this august group – founded in 1948 as one of the first integrated choirs in America – I have felt the resonance between its passion for social justice and BMPC's wonderful focus on outreach and mission. As with BMPC, every decision Singing City makes is driven by those passions.
In August 2016, following a successful tour to the townships of South Africa, Singing City began planning its next choir tour. That same month, the future president of the United States started branding Mexicans as "drug dealers, criminals and rapists." I vividly remember one choir member standing up and saying, "We have to go to Mexico and assure everyone we meet that this is NOT how we feel about them." Her plea was met with cheers from the choir. Our destination for 2019 was set and planning began.
This past Monday evening, Singing City Choir and I returned from nine emotion-packed days in Mexico. During visits to Guanajuato and Queretaro we helped launched an international choir festival, offered benefit concerts for a community arts center for under-served children and youth (Centro Cultural Mariel), an organization that supports children with compromised kidney function (SOFFY), and a center that provides care for children fighting cancer and their families (AMANC).
From Queretaro we traveled on to Mexico City (stopping at Tenochtitlan to climb the Pyramid of the Sun and present an informal concert at the top. No easy feat after climbing 248 steep steps!)
As gratifying as these first days were, nothing could quite prepare us for what we would experience in Mexico City. Saturday evening, following a formal concert with Voce in Tempore, we walked through hordes of people in the Zócalo to reach the staging area for "Florecer aquí y allá," an enormous event in support of people who were brought to the United States as infants and who had been recently deported from the United States ("Dreamers"). We were to be the closing "act" in the event.
Immediately before we sang, five "dreamers" presented their own poetry and testimonies. These young people, speaking in broken Spanish (they grew up in the United States and speak Spanish as their second language), spoke passionately about being forced to leave their lives in America and what it was like to figure out how to make a new life in Mexico. What does one sing after that? "We Shall Overcome," "Woke up this morning with my mind stayed on freedom," and African-American Spirituals ("Great Day," "Every Time I feel the Spirit"). When we switched to Spanish, singing "Quando cantamos" ("When we are singing, we are bound together"), our Mexican audience went wild, cheering, clapping and holding hands in solidarity.
Our final concert was the next afternoon at the Museo Nacional del Virreinato, an hour outside of Mexico City. The museum is a former monastery, with a chapel that has to be seen to be believed (describing it isn't possible). Seeing my wonderful choir stand in FRONT of all that gold was, to see the least, distracting. As much as I could admire the sheer magnitude and splendor of this place, I could not help but think of the Aztecs, wiped out as they were by the Spanish.
To stand in front of a large audience as I did that afternoon, and speak about our final group of works - an homage to the United States' neighbors (Cuba, Mexico and Canada) - was nearly impossible. Seeing countless Mexican's mouth the word "gracias" as I spoke, validated our decision to come to this great country.
During our first encore, I signaled the choir to move out and among the audience. As choir members mingled with the crowd, the audience began to cheer. We were singing "Quando cantamos." With each repetition, more and more Mexicans joined in singing "Quando cantamos, undos estamos, encompartir hay libertad. Juntos cantando y compartiendo, Sembramos cambio, sembramos paz. (When we are singing, we are bound together. When we are sharing, we are free to be. Both in our singing and in our sharing, we are bringing change. We are making peace).
At the conclusion of the concert, a young teen approached me. I reached out to shake his hand and instead, he moved to hug me. He looked into my eyes and in broken English said, "Thank you for coming to Mexico. Thank you for this wonderful concert. I hope you can see that what your president has said about us is wrong." I assured him that we knew that, and it was for that reason Singing City made the decision to come to Mexico: to make the statement that being great neighbors is essential for the world.
For the record, this was not an "anti-Trump" tour! Rather, we sang for HUMANITY, for MUTUAL RESPECT, and for LOVE as a better path for the world to follow. While some might say that musicians can be naive, I don't believe so, because we saw the positive power of that approach during every single day of our journey through Mexico. It's an approach that could change the world if only everyone would take it.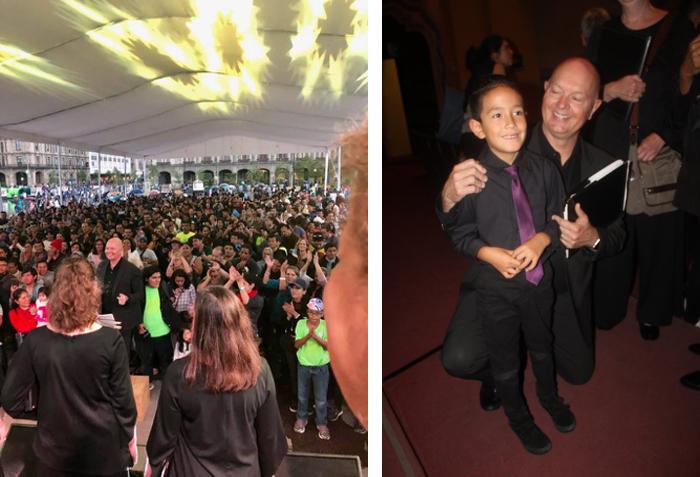 Figure 1: "Dreamers Event." Figure 2: Jeff with child in concert audience who is being treated for kidney failure.