Through my more than 36 years as Director of Music and Fine Arts at Bryn Mawr Presbyterian Church, there have been a handful of musical experiences among hundreds of concerts that stand out for their timeliness and spiritual power. Our 1985 B-Minor Mass (J.S. Bach), the 1987 anti-war concert (Vaughan Williams, Ives and Copland), a concert exploring tensions between Jews and Muslims (2000), concerts with jazz great Dave Brubeck (1989 and 2003), Missa Gaia (2010, 2012, and 2018), and now, Thomas Lloyd's Bonhoeffer, to be presented this Sunday, March 17, at 4:00 p.m.
Upon its premiere by the Grammy award-winning Crossing Choir, Thomas Lloyd's Bonhoeffer was lauded by David Patrick Stearns in The Philadelphia Inquirer (March 13, 2013):
Sometimes you just don't see a significant piece coming…. Even when Bonhoeffer was chatty and cerebral, Lloyd pumped up his words with vigor and exterior conviction. Herein lies the piece's hallmark: While it effectively airs many philosophical questions that keep your mind busy long after the performance, it is never weighed down by them, and is rich in musical substance."
To be sure, these past 10 weeks of rehearsals have been intense, challenging, and ear-opening. But ultimately, this has been an incredibly inspiring period for our singers. Living, as we have, with the remarkable story of Dietrich Bonhoeffer's life, intertwined as it was with his fellow theologians and his beloved fiancée, Maria, has taken us on a journey that has profoundly touched each of us. How does one wrap one's mind around the life of a peace-loving theologian who ultimately participates in a plot to murder Adolf Hitler? Bonhoeffer's story has challenged us to ponder what is right and wrong, matters of living the faith in challenging times, and how to be courageous.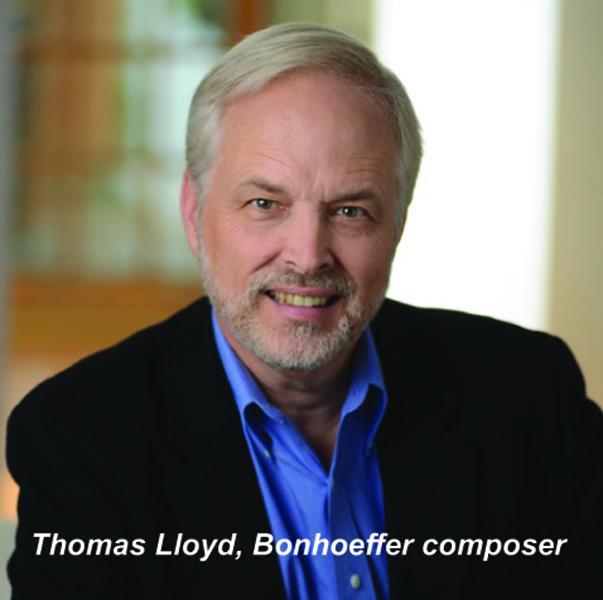 I am deeply grateful to Tom Lloyd for having the courage to tackle the composition of "Bonhoeffer." Tom has succeeded in getting inside Dietrich and Maria's minds and hearts. You hear their struggles. You are moved by a love that ultimately was thwarted by Bonhoeffer's death at the hands of the Nazis. For me personally, the setting of Bonhoeffer's favorite biblical passage, the Beatitudes, is simply brilliant. Through masterful use of rhythm and bi-tonality, Tom depicts the challenge of living these words. Framed as they are by recordings that Bonhoeffer would have known - first Paul Robeson's "Sometimes I feel like a Motherless Child" and later a recording of the Hall Johnson Choir singing "Walk together Children," you feel Bonhoeffer's struggle as he tries to sort out what to do to stop the tide of evil.
My greatest gratitude goes to the men of the Bryn Mawr Chamber Singers and our staff singers, Elizabeth Weigle, Corinn Altomare, and Misoon Ghim. They have invested a breathtaking amount of time and commitment into this project. To be associated with them is my greatest privilege.
Bonhoeffer is a remarkable story, one that has inspired us and one that will inspire future generations. We pray that your journey with us through Bonhoeffer helps you in your spiritual path.
Click here to download the program (you'll definitely want to read this before attending!) Tickets are available online and at the door. $20 Adults/$5 Students.