This week the Presbyterian Church (USA) is engaging in seven days of prayer and action to fight against the problem of Human Trafficking around the globe. Working against this devastating issue has become a priority for Presbyterian Women both on the national and local level as well as for the work of Presbyterian World Mission in their fight against the root causes of poverty and confronting cultures of violence.

From the PC(USA) website:
An estimated 800,000 people, of which approximately 80 percent are women and up to 50 percent are minors, are trafficked across national borders. This number does not include the tens of millions of people who are trafficked within their countries of origin (See Trafficking in Persons Report, U.S. Department of State, 2015). Human trafficking is the recruitment, harboring, transporting, providing or obtaining by any means any person for forced labor, slavery or servitude in any industry or site such as agriculture, construction, prostitution, manufacturing, begging, domestic service or marriage.
Estimates vary but there are at any given time between 20 and 30 million people throughout the world who are recruited, entrapped, transported and exploited — a process called human trafficking.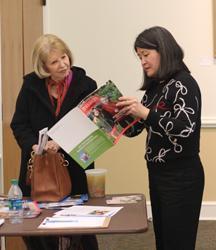 Here at BMPC we had a unique opportunity this week to hear more about this issue and how the PC(USA) is working in partnership around the world as we spent the day with The Rev. Cathy Chang and her husband Juan Lopez. Cathy and Juan have been appointed by Presbyterian World Mission to serve in the Philippines, where Cathy will officially serve as Regional Facilitator for Addressing Migration and Human Trafficking. Partnering with the United Church of Christ in the Philippines and other local partners, Cathy is enthusiastic and passionate about this new call.
Cathy served here at BMPC as a Lilly Resident in 2007 & 2008, and since that time has been serving as Pastor of Memorial Presbyterian Church in Midland Michigan. Cathy and Juan will officially begin their time in Manila in early March.
From a recent Mission Connections letter from Cathy and Juan:
We are grateful for the many ways that God has connected and reconnected us with congregations and individuals. Having started our life as a dating couple in Egypt and then having continued our married life and ministry together in Philadelphia and in Michigan, we are grateful for existing relationships and for those still to be developed and nurtured, now for the purpose of sharing in God's mission in the Philippines.
It was wonderful to watch throughout the day on Wednesday as folks from the congregation and the presbytery were able to connect with Cathy and Juan and support them in their upcoming work. It was clear that this congregation's affection for Cathy and her passion will help us all be better connected to this vital work that she will undertake on behalf of the Presbyterian Church (USA). Cathy will help us learn together not just more about the problems and patterns of human trafficking, but how we as a congregation and individuals can be engaged in the solutions. This is almost always the case when it comes to being engaged in mission and with our mission patterns- it is our personal connections that help us stay engaged in mission.
To learn more about Cathy and Juan's appointment with Presbyterian World Mission, check out their page on the PWM's website.
To be sure to keep up with the work that they are doing, please consider subscribing to their blog: www.eveniftheskyfalls.wordpress.com
There will be a variety of ways that we will be able to support Cathy and Juan during their service, and one of the most important first ways we can support them is through prayer. I asked Cathy what prayers they would appreciate at this time. As they continue with this transition, they are especially prayerful that they will be able to sell their home in Michigan which would greatly assist in their ability to fully engage in their new work overseas. They asked for prayers for them as a family, that they will be open to the new possibilities and challenges that they encounter. Of course as they move they are also mindful of the challenges that come with parenting overseas, and so we should be keeping Cathy, Juan and their daughter Aurelie in our prayers as well.
As Cathy and Juan begin their work and continue to share with BMPC, look for more ways that we can be engaged in this vital ministry.
May we be in prayer for them and for all who work to fight these cultures of exploitation:
Let us join the psalmist in Psalm 106, who asks, "Who can proclaim the mighty acts of the LORD or fully declare his praise? Blessed are those who act justly, who always do what is right. Remember me, Lord, when you show favor to your people; come to my aid when you save them . . . ." Lord, we know that it is from you that all goodness comes. May you work through us, and may we work together, to share your love. —Ryan Smith, Presbyterian Representative to the United Nations (from Seven Days of Prayer and Action to End Human Trafficking)